Trevors story...
Trevor died on December 14, 2007 at Parkland Hospital after his vehicle was struck as he was making an illegal U-turn on FM544, said Trooper Rebecca Uresti, spokesperson for the Texas Department of Public Safety. Trevor was turning around to help his girlfriend change a flat tire.
The driver who hit Trevor's car — who police believe is Arturo Almora-Juarez, of The Colony — has been charged on suspicion of driving while intoxicated and failure to stop and render aid, the latter of which is a felony, Uresti said. Police found Almora-Juarez shortly after the alleged hit-and-run.
The tragic news of Trevor's car accident rippled through the family, its members spread across California, Texas and Michigan.
Trevor is survived by his father, Kevin Schor, and his wife, Kristin; his mother, Cara Little and her husband, Curtis; four siblings, Devin Schor, Crystal Schor, Erin Murphy and Wesley Little; three sets of grandparents, Lee and Roy Hillman, Wayne and Ina Strange, and Ronald and Patricia Schor; and many aunts, uncles and tousins.

remembering Trevor...
public service announcement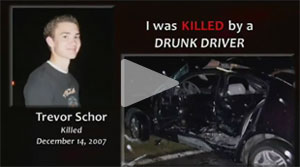 See more pictures and videos...

give in Trevor's name...
Trevor liked to give and was always helping those around him.  That is why we have teamed with Compassion International and you can give in Trevor's name.